A New Way To Run The World
Announcing the launch of Run The World, a platform that enables live, online events, and our funding led by a16z
Today, we are announcing the launch of Run the World, a platform that enables live, online events.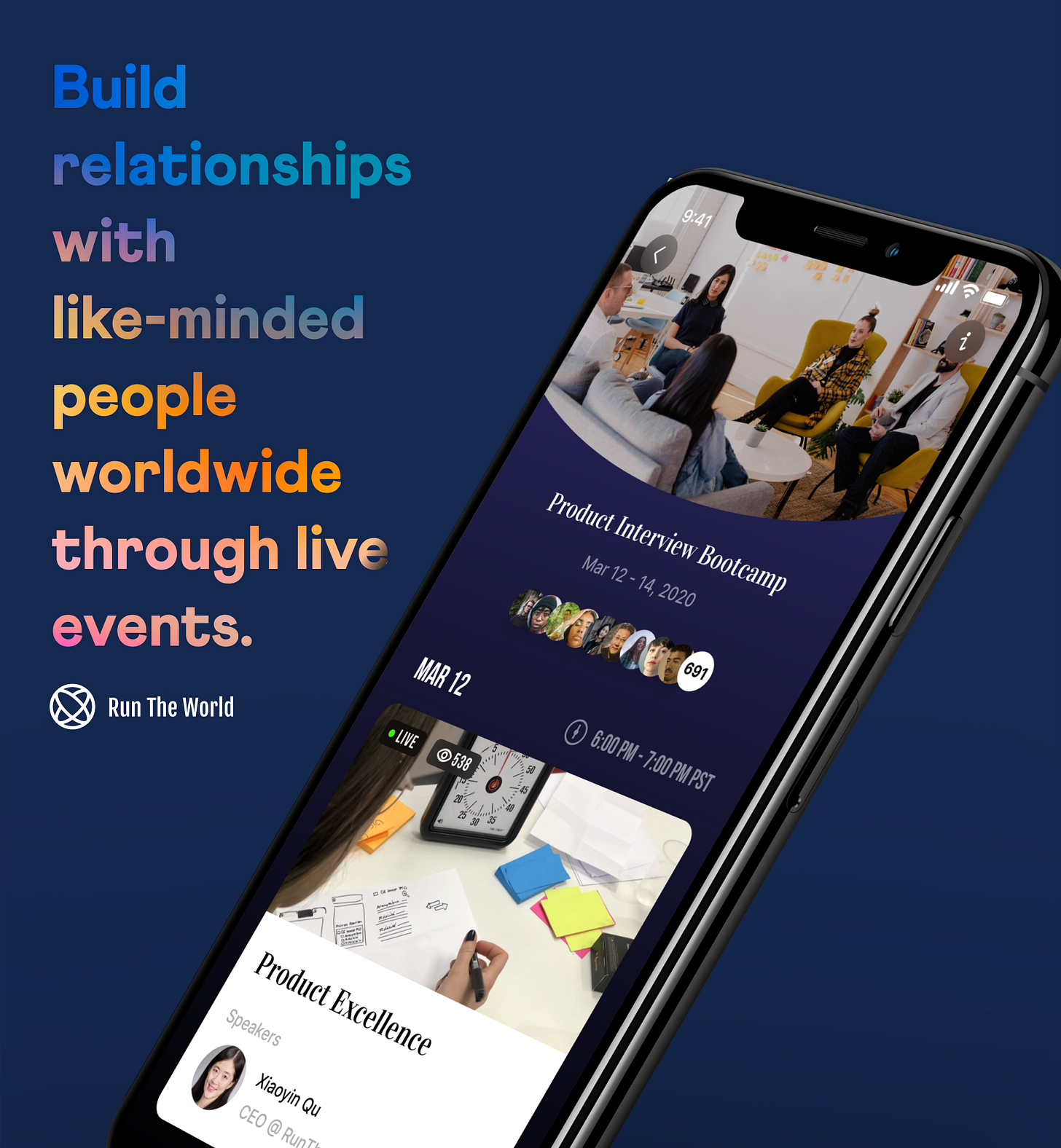 With Run the World, anyone can easily organize online events and enable people to form meaningful relationships without being limited by physical proximity. Run the World supports online conferences, fundraisers, fireside chats, meetups, and other types of events. For a fraction of the time and money needed to organize an offline event, all sorts of organizers—creators, writers, podcasters, nonprofits, communities, associations, event planners, and companies—can host an exciting event that brings people together.
The inspiration for Run the World came from my mother, a pediatric neurologist who, after practicing for 35 years in China, finally had the chance to attend an international pediatrics conference in Chicago last year. At the conference, she met doctors from around the world, learned the latest research and treatment plans, and even met another doctor from Dubai whose patient had a similar rare condition to one of her own patients. Even though the trip was invaluable, she told me she couldn't imagine doing it again because the ordeal of attending—requiring 2 weeks off work, applying for a US visa in Beijing, traveling from Qingdao to Chicago, and expensive flights and hotels—posed such a huge barrier. 
I wished that my mom could have a magic wand that enabled her to meet all those doctors, share knowledge among them, and build meaningful relationships—all with a few clicks. Teaming up with Xuan Jiang, a colleague and friend from Facebook, we're building that magic wand.
Today, we're also announcing our Seed financing led by Connie Chan at Andreessen Horowitz, whom we connected with through my longtime friend and mentor Li Jin, a partner on a16z's consumer investment team. We're also excited to partner with GSR Ventures, Pear Ventures, 122 West Ventures, Unanimous Capital, and super angels including Kevin Weil, Paul Willard, Sam Yam, Joel Peterson, David Lieb, Akshay Kothari, and others.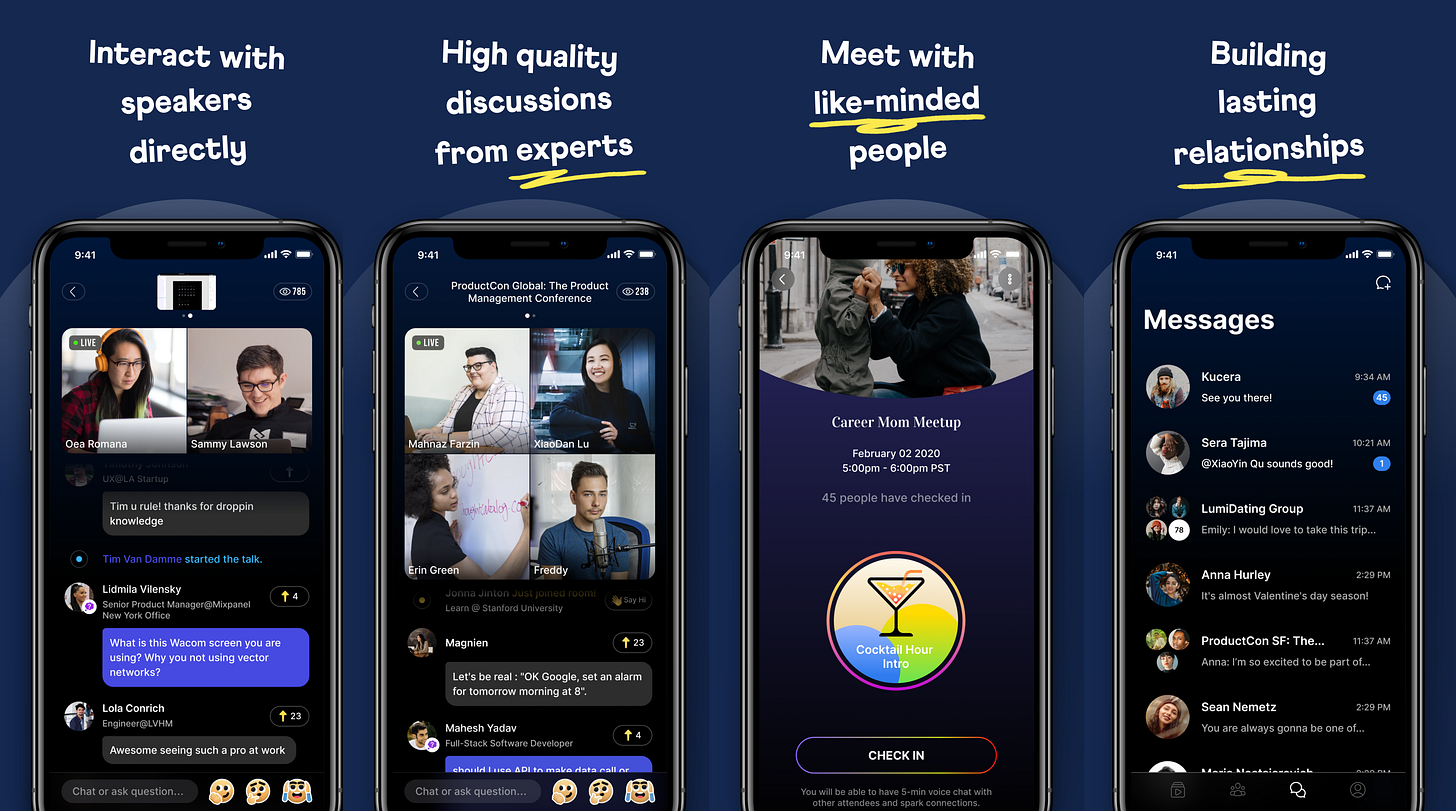 Run the World helps organizers to easily put together an online event, from workshops to fundraisers, from large-scale conferences to intimate networking sessions. Attendees use Run the World directly to participate in live sessions, engage with speakers, and make meaningful relationships with other attendees.
Four months since we started the company, Run the World has seen tremendous uptake around the world, from Silicon Valley to London, from China to Costa Rica. We've enabled organizers of all kinds to put together amazing events and brought attendees from 30+ countries together to meet, learn, and collaborate.
Here are some of the impacts Run the World has had, based on events we've enabled so far:
Events that would never have been undertaken offline—due to hyper-distributed audiences or limited resources—are happening online. Mandalao, an elephant conservation reserve in Laos, was able to raise $30K from donors from 15 countries in 2 weeks by hosting an Asian Elephant Conference on Run the World. Their limited budget and global base of donors had previously made it infeasible to host an offline event; with Run the World, such an event became possible. They plan to host another event this year.

Events are able to easily scale internationally. Xue Wu, leader of Wuhan2020, the largest open-source community dedicated to the coronavirus crisis, uses Run The World to run its international hackathon. Thousands of developers worldwide can present their demos, get help from speaker office hours, and collaborate better with each other to tackle the crisis using technology.

Interpersonal connections and the social aspect of events can be facilitated online. Attendees of a Product Management Interview Bootcamp were able to get 1:1 advice from speakers and meet other attendees during virtual cocktail hours, where they could practice interview questions and swap advice for breaking into the product management industry. Attendees have told us that the virtual nature of the event allows for more efficient networking and empowers those who may be more introverted.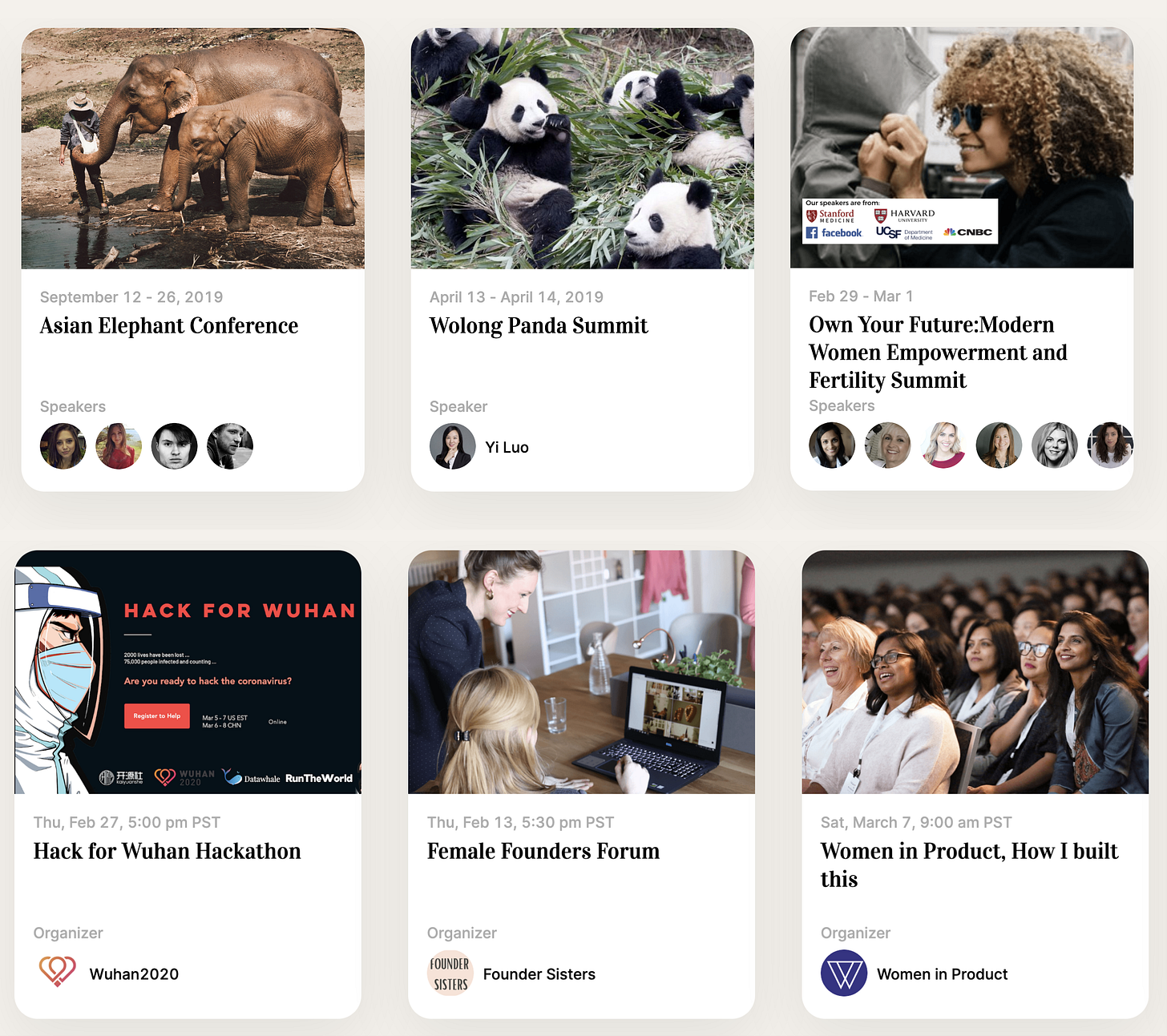 The need for a platform like Run the World that democratizes access to people and ideas around the world has always been present, but the urgency is greater now than ever before. In the past few weeks, countless organizers—hosting everything from fireside chats to large-scale conferences—impacted by the coronavirus have reached out to us to shift their events online, as their offline events are threatened by the outbreak. 
Today, we are announcing a special program: we will waive all set-up fees for events impacted by the coronavirus. Organizers of events of all sizes can bring their existing agendas and attendee lists, and our team will help to move the event online within a few steps with Run the World.
Talent is universal, but opportunity is not. Our mission is to create a world where people can easily meet, collaborate, and learn from others with similar expertise, interests, and passions—regardless of their particular location or circumstances. We want to break the barriers that limit access to knowledge, connections, and communities, and enable people to "Run the World." Today marks the beginning of this movement and we couldn't be more excited!